Here it is. The best comic ever created and chances are, you've probably never read it. Imo, better than Watchmen, The Dark Knight, Enigma, or any other top American comic you can think of.
BUT Larry, what makes it so damn special!?
Well, for a comic released in 1982, it brought forth so many mature elements, themes, story structure, and comic composition that we would see in comics like Watchmen, Enigma, Animal Man, and others in the Bronze Age; this is a game changer comic.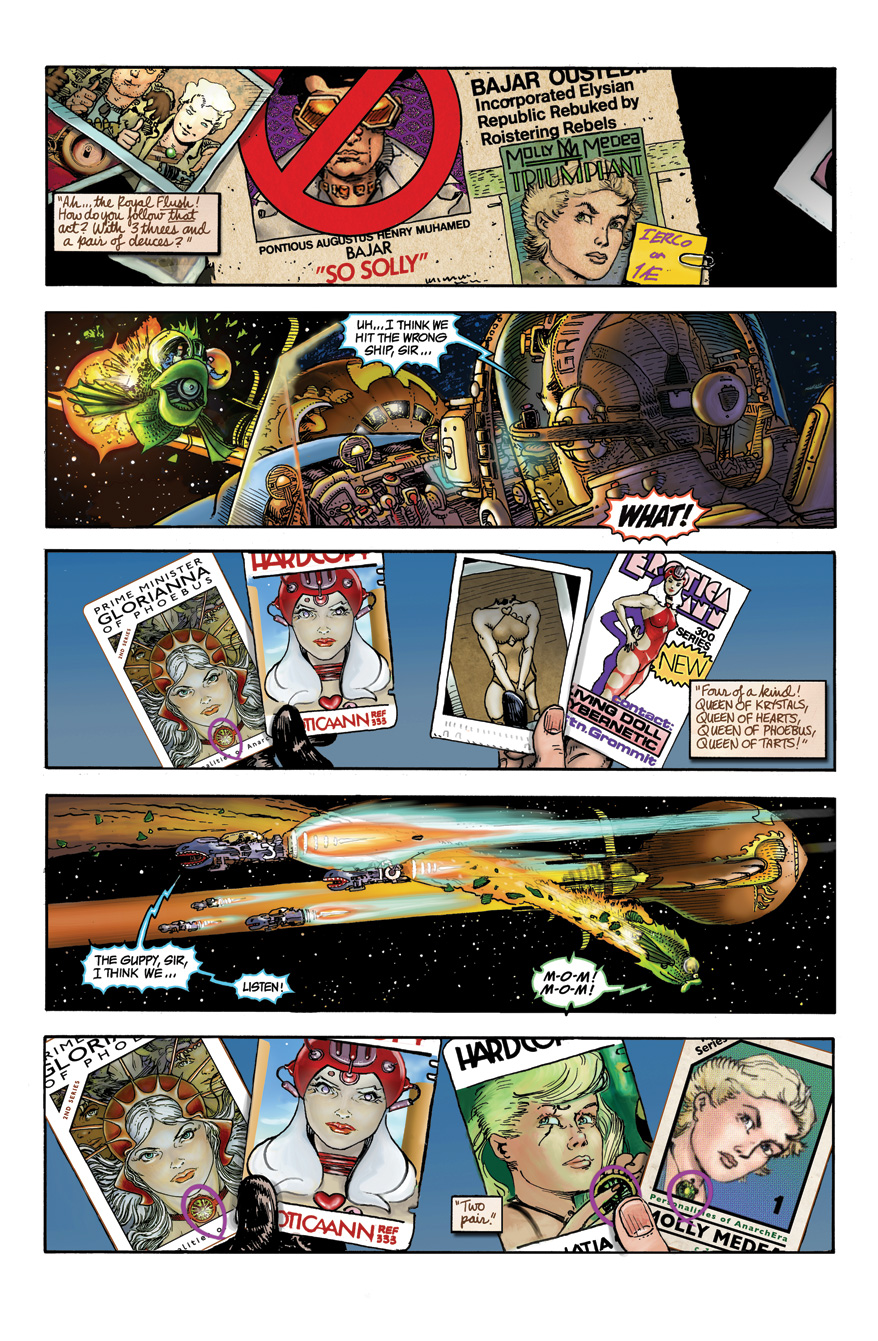 Starstruck dealt with numerous themes, one of those themes is of feminism and women in comics. Lee & Kaluata wasn't afraid to deal all the different aspects of feminism and filter it through the story and the characters in a complex nuanced, gray upon grey way. Lee also created a huge women cast; this is a very women centric comic. The way Lee & Kaluata created them to be empowering, mature, complex and real; you can see these characters coming out of the page and becoming real.
Lee & Kaluata also upended gender and sexual stereotypes. A nifty thing Lee and Kaluata did was to put many famous male and female icons of our world and gender-bend them. Sexual orientations was another aspect that Starstar explored; it wasn't afraid to explore and show alt sexuality and its trappings. Characters in the series are omnisexual, homosexual, antisexual, heterosexual, asexual, any kind of sexual. It embraced sexuaity and wasn't afraid to show it in all its glory and weakness.
Well, what in the world is Starstruck about then. The Tl;Dr verison: Riot Grrrls influenced by Robert Altman and Thomas Pynchon take over the universe by any means possible.
The longer version:
Well, Starstruck is set in the faarrrr future in which the death of a great dictator causes a power vacuum in the universe. His death sets up an elaborate chess game of very eccentric characters scheming for control. The story follows Captain Galatia 9 and her partner Brucilla, The Muscle. They meet sex bots, get caught in surreal situations to madcap scenarios.
Through this adventure, the series satirized various aspects of our society. Religion: an author creates an new religion so he can fund his scheme for power an control. Gambling: taken to its extreme! I mean, the idle rich are gambling in who walks into the room or the mere chance of meeting someone!
Vanity: a Elizabeth Bathory villainess who may or may have not killed tons of young girls to stay youthful and where their are places where the poor can sell their life for the rich to live longer.
Militarism: this is the best, most of the Earth got destroyed due to military paranoia. So to cover that incident up, they cover the part that was destroyed with a hologram. Lord. And then you've the jingoistic space brigades that think the universe is their for the taking and to push forth their agenda. And finally the Arts(this is my favorite): creators of really bad plays get killed by conceptual art assassins. Let that sink in. Oh, and then you have a trio of actors who are self-absorbed into high drama frilliness and they happened to be conjoined too. Insane.
As you can see, it's quite the hilarious series with a hefty themes. I haven't even touched how Starstruck deals with the themes of absurdism and destiny.
Now the universe. The way the story structured is something that should be lauded; it's bloody HUGE! There are so many characters fighting for power and fighting to stay alive, it's amazing to see how Lee and Kaluata juggle them and they juggle them effortlessly. Not only that, the way the story is written and the depth is to be lauded. Lee and Kaluata came at Starstruck like a writer coming at a book. She believed that comics can be just as demanding and just as hefty as a book and she brought that to Starstruck. It's a series that works in multiple layers and demands to have multiple readings to really understand what's going on.
Also, Kaluata brought his A game to the series. He brought forth a diverse elements of our society (pop, sci-fi, international art) into Starstruck. He molded those elements and brought forth a unique look and feel to the series. He also draws little bits that reference EC comics and comics he loved as a kid.
Kaluata's panel composition is something to be studied. There's a running motif to make them widescreen, make them stacked, like a cinema vista. It's to make the comic feel wide and expansive; that you need wide lenses to fully appreciate it. Kaluata also guides the readers with his drawings compositions.
All this gave the comic a unique look and feel to it. It was like nothing that came before it!
This is way it's so special and why it's INSANE that this is a criminally underrated with the comic crowd. Starstruck deserves to be up there with the best of the best. Well, it is but I mean recognition wise. And as all books and comics that are criminally underrated during it's time, it will get its due. And when it does, I hope it changes the future road of comics, into something better than it is right now.